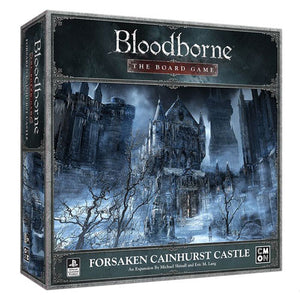 Explore a Forsaken Bastion of Horrors
Cainhurst Castle has lain abandoned atop is far peak for centuries, shrouded in darkness and bitter, creeping cold. Long ago, the warriors of the Executioners Covenant marched through its halls in a great cleansing of the depraved Vileblood aristocrats. But there are two sides to every story, and the Vilebloods have their own version of those events. There's a mystery lurking in the cold and dark, and choices to be made, for good or ill.
This expansion contains two full Campaigns for players to go through, as well as a side-mission Chapter that can be integrated into any existing Campaign. In this Expansion, discover the imposing, haunted halls of the ancient Cainhurst Castle, where monster roam the dark, dusty hallways.
Contents:
18 Enemy Miniatures
2 Boss Miniatures
11 Map Tiles
2 Boss HP Cards
15 Boss Action Cards
102 Campaign Cards
7 Enemy Cards
2 Firearm Cards
7 Reward Cards
1 Consumable Card
1 Rules Card

Ages: 14+
Players: 1-4
Game Length: 45-75 minutes

This is not a stand-alone game.