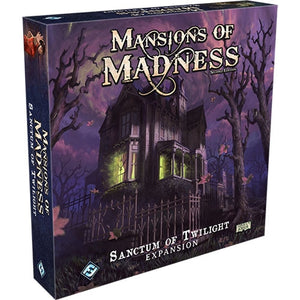 Breach the Inner Sanctum
Within the lavish rooms of the Silver Twilight Lodge, the most influential citizens of Arkham gather to forge business alliances, plan parades, and lobby politicians. In secret, they also meet to enact forbidden rituals with dark consequences. The poor souls who discover this truth often vanish, never to be heard from again.
Sanctum of Twilight
 introduces the machinations of the Silver Twilight Lodge in two new scenarios, In one scenario, the investigators must reveal the sinister plot behind an annual parade thrown by the illustrious order. In the other, the investigators must discover a new way to escape the Lodge itself and lead their fellow captives to safety. This expansion also adds new investigators, new spells, and new items to assist in these investigations, as well as a new, incorporeal threat - the wraith.
Contents:
1 Rulesheet
5 Map Tiles
2 Investigator Cards & Plastic Figures
2 Monster Tokens & Plastic Figures
10 Common Item Cards
6 Unique Item Cards
10 Spell Cards
7 Condition Cards
2 Damage Cards
2 Horror Cards
20 Restraint Tokens
10 Person Tokens
7 Clue Tokens
2 Wall Tokens

Ages: 14+
Players: 1-5
Game Length: 120-180 minutes