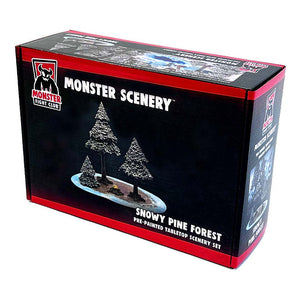 The Snowy Pine Forest set contains two trees, one stump, and a two-sided forest area template. Each Snow-covered Pine Canopy section can be removed and stacked in any order. Stack the pieces to create two towering trees, or spread them out to create a denser winter forest. 
A stump adds some natural diversity to the set - use it to mark a hidden location in an adventure, or as a tactical objective in battle. 
Our templates are made from thin neoprene and depict an area of rocky ground frosted with snow. Their reverse side shows a frozen pond, perfect for ice fishing, deep sea monsters or as a hazard on the map.