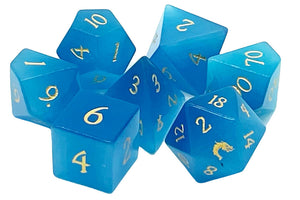 Each Semi-Precious Gemstone set is handcrafted and checked for quality. Because they are made from natural elements, each die will be unique and have variations from the images shown. This includes potential striations throughout the stones or glass, that do not impact functionality. With their hefty feel and captivating looks, these gemstone dice are the perfect upgrade for any gaming table. We do recommend rolling stone dice on our Old School Dice rolling trays. 

Old School Dice & Accessories carry a wide range of premium & specialty dice. Each fabulous set is hand checked to make sure that you are getting the highest quality. These dice have colors that are clear and bold. Our dice sets work great for RPG's such as DnD, Pathfinder, Call of Cthulhu and other games. Each RPG 7-dice set includes all of the standard polyhedral dice.
7-PIECE DICE SET INCLUDES
One of the following: d4,d6,d8,d10,d10(00-90),d12,d20

An exclusive Old School Dice & Accessories Metal Premium Dice Tin!
FEATURES
Each d20 has an exclusive Old School Dice & Accessories 'Dragon Head' Logo replacing the '20'.

Excellent balance, weight & feel for that serious roller

Made of Natural Material

Standard 7 piece RPG dice set, standard 20mm d20 size

Great for DnD, Pathfinder, Call of Cthulhu  and other RPG's